MGH head 1:MGH head 1
From Martinos Center Anthropomorphic Phantoms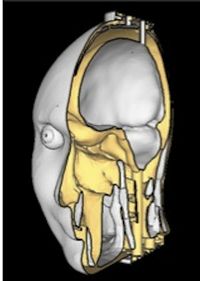 Citation
Nadine N. Graedel, Jonathan R. Polimeni, Bastien Guerin, Borjan Gagoski and Lawrence L. Wald (2015). "An anatomically realistic temperature phantom for radiofrequency heating measurements". Magnetic Resonance in Medicine 73(1):442–450
Download files
Click here to download the CAD model.
Phantom description
This phantom is based on a 1mm isotropic segmented head model which was labeled as described in Makris et al.
The segmented head data was converted into a simplified surface model with two compartments: Brain and other soft tissues. Bone and air (both low epsilon, low conductivity) are printed together out of plastic material with similar electrical properties.
Special considerations
The sealing flange uses an o-ring.